Discover the colours and the scents of the Tuscan scrub
The trails designed for the excursions in bike are interesting for different point of view. The nature, the environmental, historical or artistic. From the Eden Park, with a bike path, you'll connect, after 7 km entirely surrounded by nature, to Pisa downtown. By the bike path, which runs along the banks of the Arno river, you will have the opportunity to enjoy the wonderful view of the Tuscan scrub. The Monte Serra, not far from the resort, offers superb scenic trails for mountain bikers.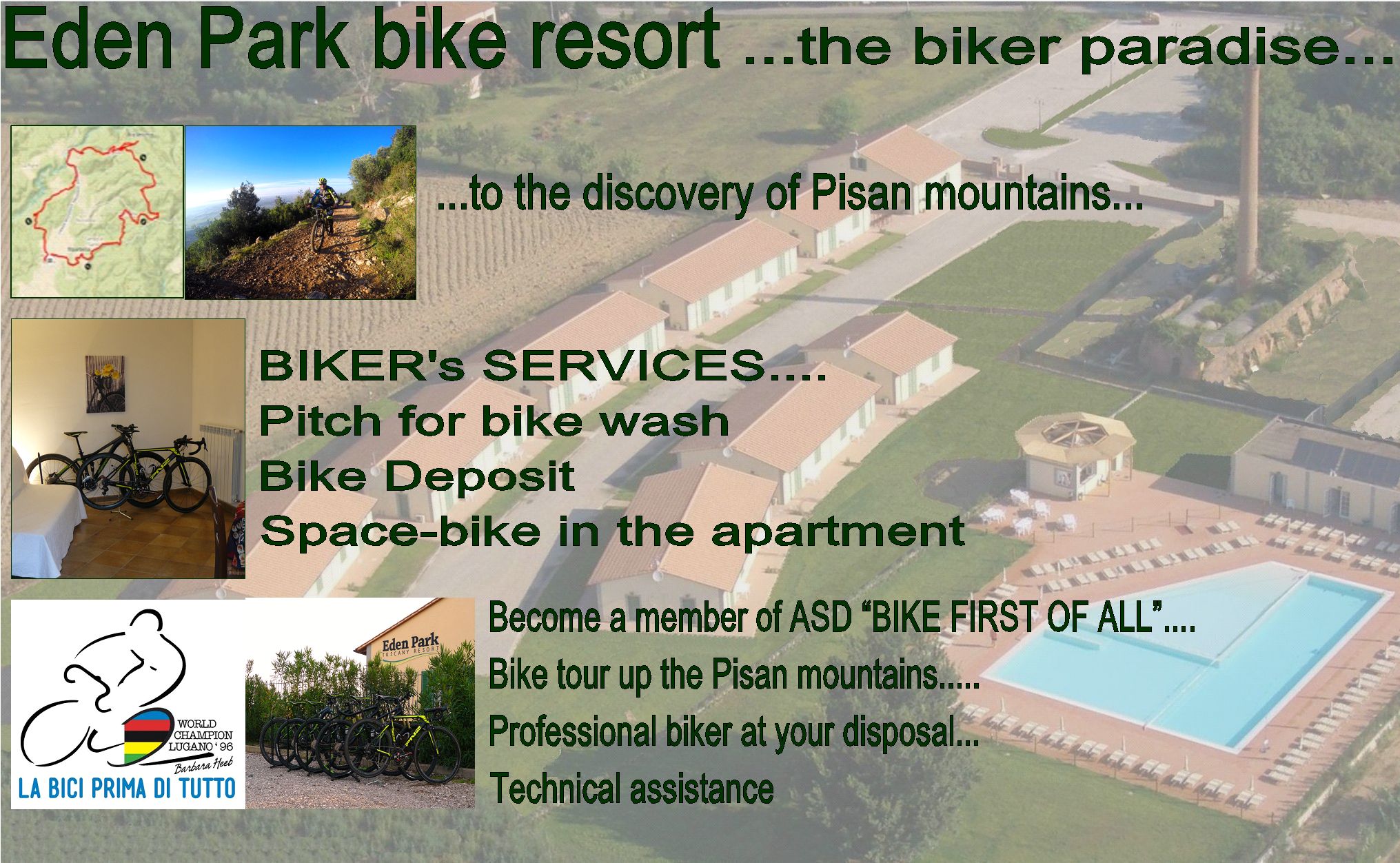 Guests of 'Eden Park Resort', in addition to the different services at this residence will be able to sign up to Amateur Sports Association 'BIKE FIRST OF ALL' and participate in trips organized road biking and mountain biking on the Pisan mountains.
L 'AMATEUR SPORTS ASSOCIATION "THE BIKE FIRST OF ALL" has in its statutes the goal of diffusion and teaching practice of Road Bike and Mountain Bike,
For its members L 'AMATEUR SPORTS ASSOCIATION "THE BIKE FIRST OF ALL" organizes excursions to the discovery of the Pisan mountains with guide - professional instructors having behind a past in professional competitions.
GUIDES:
Barbara Heeb: She is still the most beloved heroine by the Swiss cycling fans. Funny, playful and very sociable was World Champion in Lugano in 1996 and National Champion in the 90, 97 and 98. She provides with its great professional cycling experience. 
Leonardo Pinizzotto: Sportsmanship and professional cycling, Leonardo won and participated in many competitions including leading the Tour de Maroc, the Tour de Beauce, Hokkaido and the Boucle de l'Artois.
Maurizio Balestri: Born in 1962, he spent much of his life in the two-wheel, first as an athlete, then as sporting director, and finally as the owner of a bicycle shop.
AMATEUR SPORTS ASSOCIATION "THE BIKE FIRST OF ALL", it includes the participation fee:
1. Membership card;
2. Card for access to competitions and sporting events (Marathon, Gare Provincial, Regional, etc);
3. Accident insurance;
4. Access to the Mailing list of offers
5. The use of the services of the Bike Center Eden Park Resort.
Highlights

SERVICE'S AVAILABLE TO OUR GUESTS:

Pitch for bike wash with running water and a pressure washer.

Technical assistance.

Deposit Bike Indoor, alternatively every byker can keep their bikes in the apartment.

For a better result of the trip should be that participants have some similar physical and technical levels.

For a secure and comfortable performance of rides bike should be equipped with non-slip soles sports shoes, shorts bike (with groin protection), plastic glasses, backpack small and close to the body containing at least ½ liter of water, a light jacket waterproof.

To ensure the availability of bikes and guides trips must be booked in advance by contacting Eden Park Resort at 050-870252 This email address is being protected from spambots. You need JavaScript enabled to view it..
For sport people, the Eden Park offers the paragliding school operated by third parties. A unique experience, to feel free and light and to watch the Tuscan countryside with a different view, immersed in the mild climate, typical of the Mediterranean region.